Let this great wonder of nature remain as it now is. You cannot improve on it. But what you can do is keep it for your children, your children's children, and all who come after you, as the one great sight which every American should see.– Theodore Roosevelt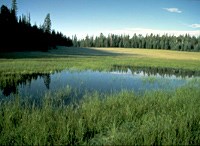 With these words, President Roosevelt designated the Grand Canyon as a national monument on January 11, 1908 through the Antiquities Act. Later on February 26, 1919, President Woodrow Wilson signed the Grand Canyon National Park Act.
Today millions of people annually tour some of the over one million acres that make up this National Park located in Arizona. I wonder how many know the Grand Canyon has more than 1500 species of vascular plants (trees, shrubs, forbs, grasses, etc) as well as hundreds of non-vascular plants (fungi, mosses and lichen). Or that there are 63 plants found in the park that have special status by the US Fish and Wildlife Service. Or that there are a dozen endemic plants (plants found only in the park).
The Antiquities Act
The Antiquities Act was signed into law on June 8, 1906 by President Roosevelt. A bi-partisan bill, it was enacted in an attempt to prevent looting, desecration and destruction of Native American sites and other unique and treasured places. Either the President or Congress can protect America's wildlands and historical sites, including marine areas as national monuments.
A Republican by party, Teddy was the first president to declare a national monument under the Antiquities Act on September 24, 1906. That was the Devil's Tower in Wyoming.
Sixteen presidents have used the Antiquities Act to designate 157 national monuments to-date. Of these, President Barack Obama designated the most national monuments at 25, followed by Bill Clinton at 19, and Theodore Roosevelt at 18.
Bears Ears and Grand Staircase-Escalante National Monuments Reduced in Size
Two of the wildlands designated by Presidents Obama and Clinton as National Monuments were Bears Ears and Grand Staircase-Escalante. Trump has reduced the size of these two Utah monuments substantially which is the first time a president has attempted to undo any monument established by a previous president, and there is no provision for such an action in federal law. Conservationists fear Trump's goal is to open these public areas to oil and gas extraction, mining, logging, ranching and other commercial activities without consideration for the consequences to the environment. They also fear the precedent this could set for future designation (or dissolution) of national monuments.
Consequently a number of lawsuits by a number of Indian tribes, conservation and historic preservation organizations, scientists and outdoor industry and recreationists have been filed against the Trump administration because their actions allegedly violate the Antiquities Act and are unconstitutional.

What to do?
Regardless of the lawsuits, Congress can rescind Trump's proclamations and restore the entire Bears Ears and Grand Staircase-Escalante National Monuments. If you wish to express your concerns one way or another, communicate with your representatives and senators. Go to House.gov and Senate.gov to find their contact information.
Bears Ears National Monument Modification Proclamation
Grand Staircase-Escalante National Monument Modification Proclamation
For more information read the Grand Canyon News and Timeline: The battle over two of Utah's national monuments by Deseret News-Utah.