Late February/Early March is usually the time of the year we see the buds of the trees start to swell and the branches start to turn red or golden brown, but it is also the time of the year we see the spring ephemerals start to peak through the ground along with one native wetland plant that is raring to grow — Skunk Cabbage (Symplocarpus foetidus). One of my favorite swamp plants, Skunk Cabbage actually starts growing in the fall, but it's flowers don't show until February.
A member of the Araceae or Arum family, it grows north and east of the Mississippi River. You'll see its "purple mottled, pointed cone-like spathe poking up" from a shady forested wetland area in the fall. Then in late February into early March, the spathe opens so you can "see the spadix with the developing flowers," which bloom from the top down, and are pollinated by a variety of insects.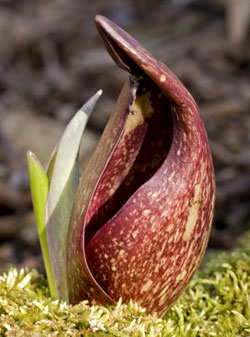 The leaves of the skunk cabbage start their growth after the flowers have developed. They are quite large (typically, 1-3 ft tall and up to 1 ft wide), but they are not woody. The leaves consist of soft plant material and air and water and seem to dissolve as they decay. The fruit of the Skunk Cabbage is compound made up of "seeds that develop grouped together."
So how does it happen that this wetland plant can blossom so early? "The blooms of the plant make their own heat, often melting any snow around the plant. Studies have shown that the plant's respiration keeps the temperature around the flowers at 70F."
And what's with the smelly name? The Skunk Cabbage plant gets its name from its distinctive smell when a stem, leaf, spathe or spadix is broken. Fortunately, while humans find the smell offensive, it is like perfume to bees, wasps, moths, butterflies and other insects at a time when over-wintering and early migrating pollinators are looking for nourishment.
Thank you Diane DeYonker for allowing me to paraphrase and quote from your recent article in the Wild Ones Oak Openings Region Chapter February 2017 newsletter.
For more information about Skunk Cabbage, see The Nature Institute.
See some awesome photos of Skunk Cabbage at The Green Farmacy Garden.