Over the weekend, I noticed powdery mildew on my zuchinni plants. Darn, I had that problem last year, too, but didn't realize what it was until it had become quite persistent. Seems like it was a constant battle no matter what I did.
The most effective combatant was a 1/1 solution of milk and water, so this year I immediately got out my sprayer and mixed up a new batch. They say it doesn't matter what percent fat in the milk; it's the protein that works to kill off the mildew. I sprayed both top and bottom of all the leaves, and since the mildew was just beginning to show, I only removed one leaf from the plant. I'll need to respray the plants every week from now on; more, if the mildew starts to show again. I also understand spraying in the sunshine is a big help. It's the interaction between the sun and proteins in the milk that controls the powdery mildew.
What is Powdery Mildew?
Powdery mildew is a powdery white coating that forms on the leaves and stems of some plants. I've had a problem with it on my Queen of the Prairie (Filipendula rubra) and Bergamot (Monarda fistulosa) plants in my mesic prairie. Although the mildew does not typically kill perennial plants, it hinders photosynthesis. In the case of the squash, new zucchinis typically didn't grow well last year and some even died on the vine. And, the plant itself died off before the typical end of season.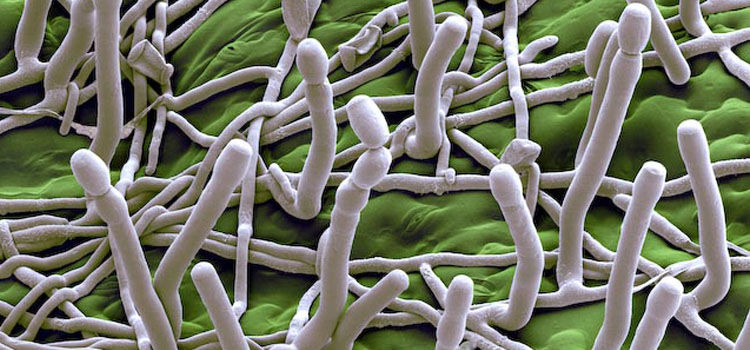 Mildew is spread by spores carried by the wind and rain generally. It likes humid weather, and thrives in wet conditions — not because it likes it wet — but because it finds crowded, overgrown plants and poor air circulation among them great conditions to cause havoc. Once the humidity of our hot summers dissipates, the spores tend to disappear, too. But they can over-winter on plants or plant debris and start the process all over again with the humidity of a new summer. So, don't intermingle powdery mildew plants with other plant debris when cleaning your gardens in the fall.
I also learned that the different species of powdery mildew fungus have different preferred hosts, so using a milk spray for squash may not have the same effect on other plants affected my mildew.
Good luck this summer.
Simple Summer Squash & Tomato Casserole