It's National Vietnam Veterans Day — a day marking the anniversary of the US withdrawal from Vietnam and honoring the military men and women who served in that war. Observed annually on March 29th since 2017, it is an outgrowth of the May 25, 2012 presidential proclamation which declared the Vietnam War Commemoration extending from Memorial Day 2012 through Veterans Day 2025.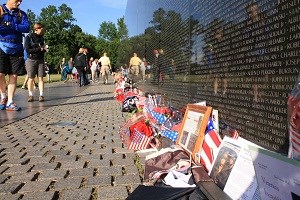 The War
Involving five U.S. presidents, crossing nearly two decades from November 1, 1955 to May 15, 1975, nine million Americans, approximately 7 million living today, served during that period. (This number includes veterans who served in-county, in-theater or were stationed elsewhere during those 20 years.) All answered the call of duty; it left an indelible mark on the American psyche.
Returning Veterans did not always receive respectful welcomes upon their arrive on American soil. There were 58,000 killed, never to return. National Vietnam War Veterans Day recognizes the military service of these men and women who answered the call to service their country when she needed them. They didn't make the decisions to go to war. (US DOD)
Honoring Our Veterans
Throughout the next seven years and on this today especially, March 29th, many local, state and national organizations, businesses and government agencies are publicly thanking Vietnam veterans and their families for their sacrifice. We as individuals should be doing so, too. I know I gave mine an extra big kiss this morning as I ushered him off to work!