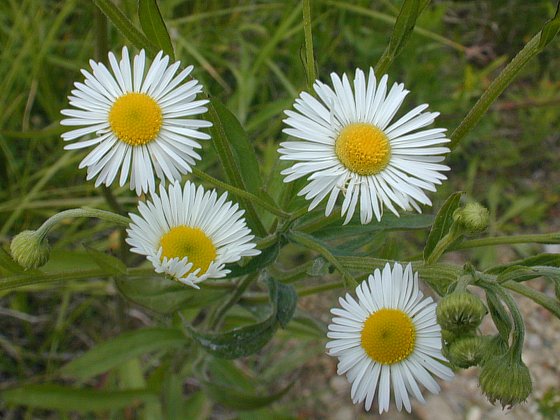 Fleabane is one of the most misunderstood — and dare I say, almost hated — native plant species. Most people consider it a weed, like Canadian Goldenrod. But I think it is a darling plant.
According to the USDA Forest Service, there are 390 known species of fleabane worldwide and about 170 species in North America. The species I'm familiar with here in Wisconsin are the Common (Erigeron annuus) and Daisy Fleabane (Erigeron strigosus). They are annual plants in the Daisy family (Astereae). In good seasons, they can be over-abundant, and in poor, almost non-existent — typical of annual plants dependent upon their seed germinating. They blossom in late spring and into the fall, often going to seed while still flowering. Each plant may have anywhere from 40 to 100 flat disk-shaped florets which are small, only 1/2 to 3/4 inch in diameter.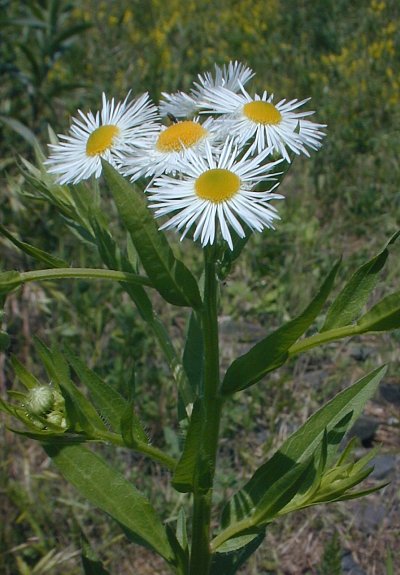 They has composite flowers made up of a wide, bright yellow central disk surrounded by short, petal-like white to pinkish flat rays. They use pollination, but also self-fertilize. "The flower has an outer ring of pistillate white ray flowers and a central disc of numerous bisexual yellow florets." (Friends of the Wild Flower Garden)
Their leaves are alternate and typically lanceolate in shape and coarsely toothed, although less so on the upper stem. Their central stem is slightly hairy. They can grow anywhere from 1 to 3-1/2 feet tall.
Fleabane prefers full sun and dry conditions, but can do well in mesic, clay or gravel; alkaline soil and partial shade. It is considered a pioneer species because it is often one of the first native plants returning to a disturbed or a restored ecological site and can often out-compete non-native weed species.
Host Plant
The Common and the Daisy Fleabane are the host plants for the Lynx Flower Moth (Schinia lynx) which can be found in Wisconsin and throughout most of the states east of the Rocky Mountains. They are pollinated by a variety of bees and flies. Wasps, small butterflies and other insects also nectar on these plants.
So the next time you're out in your prairie and you're cursing the invasion of the fleabane, maybe think twice before pulling it out. Maybe give it some reasonable doubt.