Reference my earlier post on Grape Vines as a Source of Water. Because of this post, a reader wrote to ask how to eradicate Wild Grape Vine; she preferred not to use herbicide.
Because the transition area between my prairie and my woodland has become a bit overrun with Wild Grape Vine (Vitis app) and Virginia Creeper (Parthenocissus quinquefolia), I thought this was a really excellent topic for me to research.
The surest way to eradicate Wild Grape Vine, or for that matter, any vine, is during the autumn, when they are pulling nutrients back into their roots for their winter nap. Cut the vine at the beginning of the stem and carefully and safely paint the cut end of the remaining stump with herbicide.
If you are averse to using herbicide, then you can smother the stem end after cutting it from the rest of the vine. Wild Grape Vine must have sunshine to grow. Or, you can dig the root out of the ground after having cut the stem at the end. Any of these methods will work for vines growing up into trees and shrubs. No need to remove the vine from the trees and shrubs, since it should decay and fall away on its own.
However, bear in mind none of these methods will kill any of the rest of the vine that is running/growing along the ground. These runners will either have to be pulled up or smothered, or cut where the roots have anchored themselves into the ground and painted with herbicide. This is the situation I in which I find myself in my transition area, and I think I should tackle this task soon.
Grape Vine and CO2
One of the articles I reviewed as I researched this post stated "…CO2 seems to stimulate even more vigor in vines than other plants…." (Extension Ask and Expert) This really piqued my curiosity.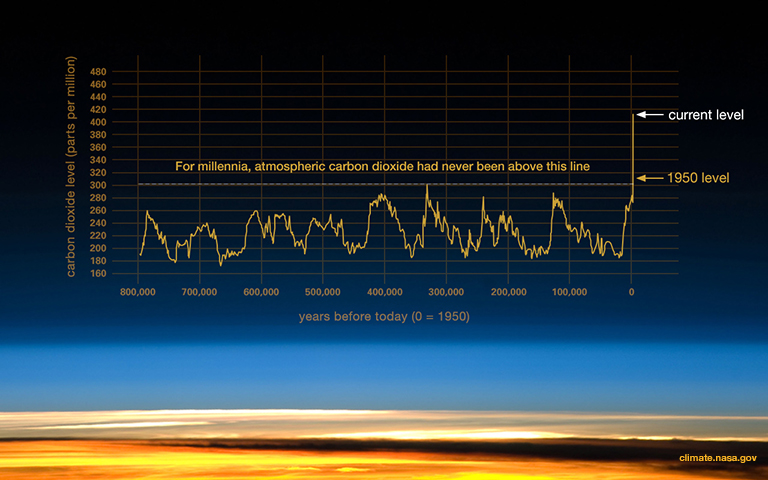 It seems all plants grow faster as CO2 (carbon dioxide) levels rise, but this growth is not typically healthy growth. This increased growth occurs at the cost of decreased nutrition. Loss of iron and zinc in food crops and loss of protein in grains, for example.  This also means as trees grower taller and produce more foliage, they will not be as strong to withstand the ravages of the extreme weather cycles we've been experiencing because of global warming. Its a "catch-22" that we need to be taking seriously.
Can evolution react fast enough? Can scientists figure out how to manipulate genes fast enough? Before our Earth is impacted beyond repair? I guess we'll see….
An easy to read description of this situation can be found in Forbes at Rising CO2 Is Reducing the Nutritional Value Of Our Food.